Mediterranean Shrimp & Orzo Soup
Apr 27, 2018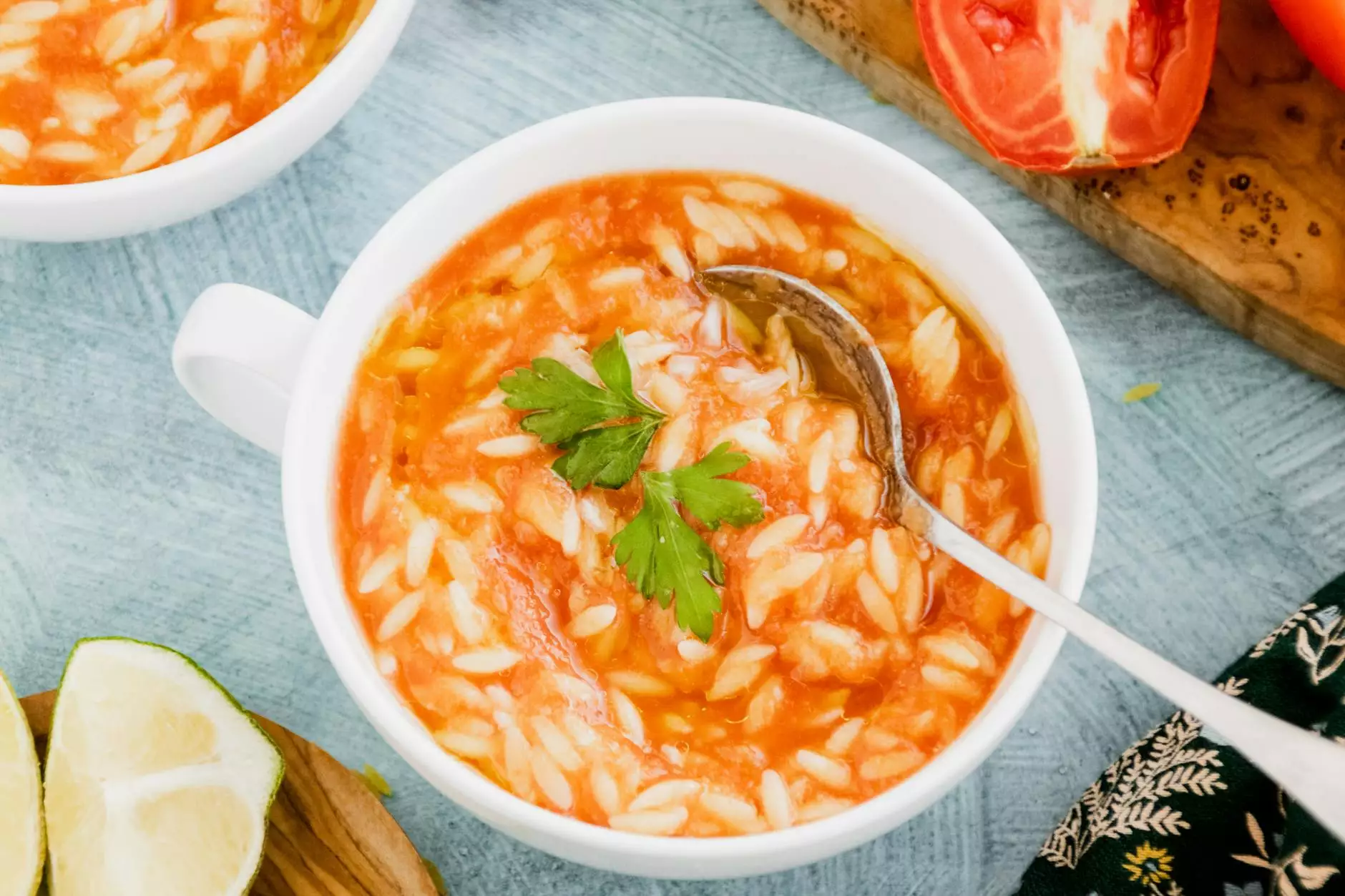 Introduction
Welcome to Cell-U-Rite Naturals USA, your go-to destination for high-quality food and supplements. In our eCommerce store, you'll find a wide selection of products designed to support your wellbeing. As part of our commitment to providing holistic health solutions, we love sharing delicious recipes, and today we want to introduce you to our mouthwatering Mediterranean Shrimp & Orzo Soup.
A Taste of the Mediterranean
Our Mediterranean Shrimp & Orzo Soup is a delightful fusion of flavors inspired by the Mediterranean cuisine. Packed with wholesome ingredients, this soup offers a perfect balance of taste and nutrition. With each spoonful, you'll uncover the richness of fresh seafood, comforting orzo pasta, and aromatic herbs and spices that transport you to the sunny shores of the Mediterranean.
Ingredients
1 lb fresh shrimp, peeled and deveined
1 cup orzo pasta
2 tablespoons olive oil
1 onion, finely chopped
3 cloves garlic, minced
1 can diced tomatoes
4 cups vegetable broth
1 teaspoon dried oregano
1 teaspoon dried basil
1/2 teaspoon dried thyme
1/2 teaspoon paprika
Salt and pepper to taste
Fresh parsley for garnish
Instructions
Heat olive oil in a large pot over medium heat. Add chopped onion and minced garlic, cooking until softened and fragrant.
Add the shrimp to the pot and cook until they turn pink and are cooked through. Remove the shrimp from the pot and set aside.
In the same pot, add the diced tomatoes, vegetable broth, dried oregano, dried basil, dried thyme, and paprika. Season with salt and pepper to taste. Bring the mixture to a simmer.
Add the orzo pasta to the pot and cook according to package instructions. Stir occasionally to prevent sticking.
Once the orzo pasta is cooked, return the shrimp to the pot and gently stir to combine all the flavors. Cook for an additional 2-3 minutes until heated through.
Remove from heat and garnish with fresh parsley.
Health Benefits
When it comes to nutrition, our Mediterranean Shrimp & Orzo Soup is a winner. The shrimp provides a lean source of protein, while the orzo pasta offers energy-boosting carbohydrates. Additionally, the combination of aromatic herbs and spices not only enhances the flavor but also brings along a host of health benefits.
Oregano, basil, and thyme all possess potent antioxidant properties, which can help protect your cells from damage caused by free radicals. These herbs also contain anti-inflammatory compounds that may help reduce inflammation in the body.
Furthermore, the tomatoes in the soup are rich in vitamin C and lycopene, both known for their antioxidant properties. These nutrients can contribute to a strong immune system and promote heart health.
Final Thoughts
Indulge in the flavors of the Mediterranean with our nutritious and delicious Shrimp & Orzo Soup. Perfect for a cozy weeknight dinner or a special gathering, this recipe will surely impress your taste buds while nourishing your body. At Cell-U-Rite Naturals USA, we believe in the power of nourishing food to support a healthy lifestyle. Explore our eCommerce store today and discover more wholesome products to enhance your wellbeing.